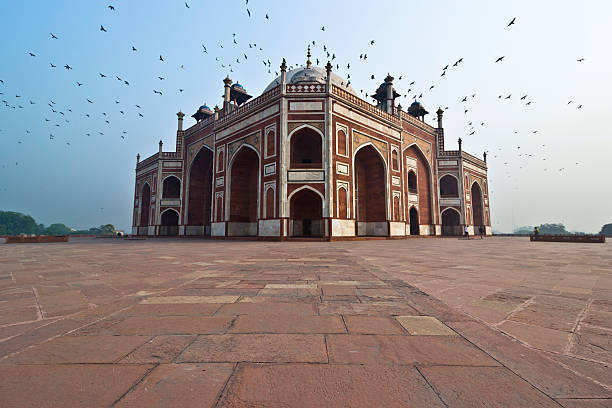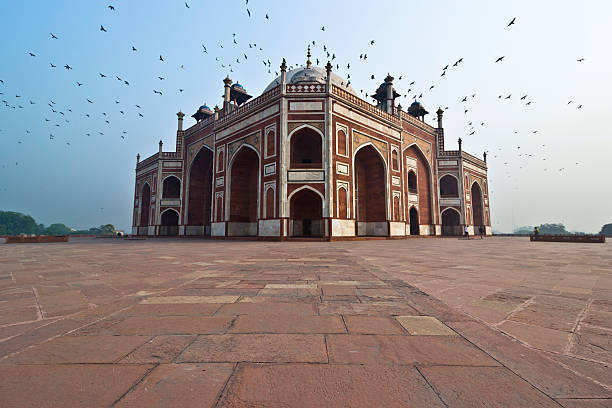 Photo ID 594565681
Humayun's tomb is the tomb of the Mughal Emperor Humayun in Delhi, India. The tomb was commissioned by Humayun's first wife Bega Begum (Haji Begum in 1569-70, and designed by Mirak Mirza Ghiyas, a Persian architect chosen by Bega Begum. It was the first garden-tomb on the Indian subcontinent, and is located in Nizamuddin East, Delhi, India, close to the Dina-panah citadel also known as Purana Qila, that Humayun founded in 1533. It was also the first structure to use red sandstone at such a scale. The tomb was declared a UNESCO World Heritage Site in 1993, and since then has undergone extensive restoration work, which is complete. Besides the main tomb enclosure of Humayun, several smaller monuments dot the pathway leading up to it, from the main entrance in the West, including one that even pre-dates the main tomb itself, by twenty years; it is the tomb complex of Isa Khan Niyazi, an Afghan noble in Sher Shah Suri's court of the Suri dynasty, who fought against the Mughals, constructed in 1547 CE.
The perfect photo deserves the perfect showcase. We offer five ways to present your art, including canvas, framed prints, unframed prints, acrylic, and aluminum to suit your distinct tastes.
Photos.com is proud to be a part of Getty Images, the world leader in imagery. Every gallery at Photos.com has been curated by a team of expert art directors from Getty Images to help you find the perfect photograph, illustration or piece of art. From ethereal black and whites to portraits of world-famous personalities, from lush botanicals to sea vistas and cityscapes, we have hundreds of thousands of images with new ones added daily. Visit
Our Company Page
to learn more.
Fast shipping
Most orders are shipped within 7 business days.
Safe handling
All art is securely packaged in double-walled FedEx-approved corrugated boxes.
Track Your Order
As soon as your artwork ships, we will send you a confirmation email with your tracking number.
Easy Returns
If you are not delighted with your artwork, return it within 30 days for a refund.
Check out our Shipping & Returns policy for more information.